Human-Computer Interaction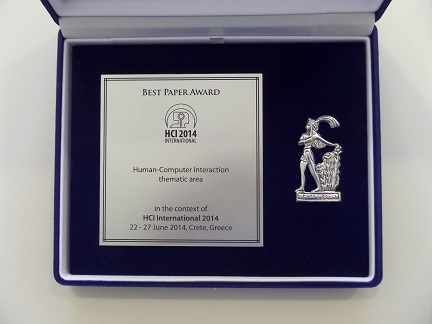 Best Paper Award for the Human-Computer Interaction thematic area, in the context of HCI International 2014, 22-27 June 2014, Crete, Greece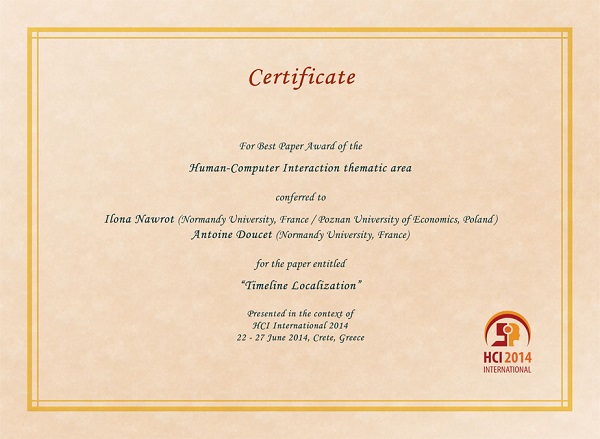 Certificate for Best Paper Award of the Human-Computer Interaction thematic area
conferred to

Ilona Nawrot (Normandy University, France / Poznan University of Economics, Poland)
Antoine Doucet (Normandy University, France)

for the paper entitled

"Timeline Localization"

Presented in the context of
HCI International 2014
22-27 June 2014, Crete, Greece
Paper Abstract
"The research findings provide evidence that time-oriented data visualizations can contribute to faster information processing, better understanding and improved recall. Thus, they are used in many application domains – medicine, law enforcement, traffic and navigation control to name but a few. Simultaneously, human's time perception varies depending inter alia on culture, language, personal experience and situational factors. Although, the differences caused by the aforementioned aspects were acknowledged and addressed in the Human Computer Interaction (HCI) field for decades their impact on time-oriented data visualizations was largely neglected.

To fill this gap, we investigate the influence of time spatializations (organization of time along axes) on the response time and accuracy of inferences based on time-oriented data visualizations. Moreover, we examine users' preferences toward different time arrangements. Our findings show that user-adapted organization of time along axes can speed up the decision-making process and increase the user experience."
The full paper is available through SpringerLink, provided that you have proper access rights.